Surveillance cameras and restricted door access controls are the foundations of physical business security, but new cloud-based systems consolidate these protective measures with others into a single, easy-to-use platform that can be accessed from anywhere.
By combining all these functions, you can improve the coverage, scale, and efficiency of your business' security to improve the protection of your business. These systems can also integrate environmental monitoring, visitor management, and building alarms.
Visual Security – Surveillance Cameras
Surveillance cameras provide visual coverage of your premises, but many businesses are still using out of date, obsolete equipment.
Hybrid cloud security cameras combine powerful processing with the limitless capabilities of cloud computing, connecting to a centralised web-based platform that can be accessed from anywhere.
Some camera systems have built-in storage to safely store footage on each device, with cloud-based archiving allowing businesses to save and share as much footage as required without the need for an NVR.
In addition, these cameras are usually easy to install, with just one POE ethernet cable required for both power and data transfer.
Access Security – Door Controls
Controlling the access that individuals have to certain areas of your building is an important security control, traditionally achieved with a pin or card access.
The management of these controls can be difficult and takes a lot of time, especially when an individual's access is revoked and the codes must be changed.
In contrast, a cloud-managed access control system is easily managed and maintained through an online platform. Edit employee's access levels, open doors remotely, and integrate with cloud cameras for full coverage across all of your sites.
Cloud-connected access controls work with existing door hardware and readers, with the added benefit of unlocking doors from a mobile device with a connected app or Bluetooth connection.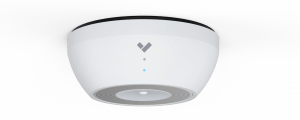 Environmental Protection – Atmospheric Sensors
Monitoring the environment of a room is important for many different types of businesses, with sensors able to detect conditions from temperature and humidity to air quality index and vape index, and even noise levels.
These sensors can also be cloud-connected and managed through the same platform as the integrated cameras and door access for a complete security solution.
At UK IT Networks, we partner with Verkada to bring businesses a complete cloud-based security solution. Backed by an industry-leading 10-year product warranty and automatic firmware updates, our cloud-managed network allows you to manage security across all of your sites from a single platform.
All hardware is simple to install and scale with POE connections and can be integrated with current systems, with our easy-to-use centralised management to be able to access your system wherever you are.
Speak to a member of our team today to learn more about the benefits of a cloud-based security solution and get a 30-day no-obligation free trial of our systems. We'll even send you a YETI Tumber in appreciation of your time. Head to our product pages to learn more about our surveillance cameras, access controls and environmental sensors.
Join our webinar at 11:00 on Tuesday 18th January where Head of IT, Richard Tracey, will be joined by Rhys Brown from Verkada UK to discuss about the benefits of our cloud-based security systems and how easy they are to set up. We'll even send you a £5 Amazon Voucher just for attending.