About Horizon Contact
Horizon Contact offers integrated solutions for business communication and customer contact. The platform's mission is to simplify your customer interactions all within a single multi-channel platform. Providing your business with the perfect features to communicate with your customers, avoiding any complications.
What Makes Horizon Contact Different?
In today's digital world, faster response times can help you stand out from your competitors in a highly competitive market.
Unlike most contact center solutions, Horizon Contact offers a user friendly, self service feature. This is useful for all types of businesses and offers a reasonable price. If you fall into the small to medium business category, this definitely adds to some of the key benefits.
Not only does this platform offer a combined experience, but it also has common features for contact center agents in the front and back office. This means, that all users exist within the Horizon platform and can be easily activated as Horizon Contact agents within the Horizon Portal.
In addition, the Horizon Contact platform provides a high-quality customer experience for voice email and web chat interactions. Horizon Contact is compatible with a wide range of handsets and supports WebRTC to enable the use of softphones. This feature enables agents to work from anywhere, at any time, via any device.
How Will it Improve Customer Service?
As a company, your number one goal is to get it right the first time. Why not make sure your customer's journey is as easy as possible? It is, after all, your top priority.
With Horizon Contact, you get consistent quality through the omnichannel solution. The interface provides agents with a total view of customer communications across all channels, for a seamless experience. Horizon Contact supports inbound and outbound voice channels, web chat, and email. This enables a highly personalised customer experience.
Using complex interaction workflows, dynamic skills-based routing, and IVR self-service options, Horizon Contact lets you connect customers to the most appropriate agent even faster. This automatically improves first-contact problem resolution and provides a higher level of customer service.
Your team also has access to a shared phone book. With this feature all agents in the office can easily share information. Not only can they transfer calls with full call functionality, but they also have access to the history of all interactions. This is stored in the CRM and is available to agents when they are connected to a recongnised customer.
What Are the Advantages of Horizon Contact?
Management insight and control
Within the platform, you have access to the portal that includes comprehensive reporting tools that allow you to create multiple reports across all channels. Reports can also be scheduled and delivered to managers whenever they need them.
Access anytime, anywhere
This feature allows you, as an agent to access your portal from anywhere via any device. Horizon Contact uses WebRTC to deliver the same experience wherever your teams have Internet access.
In conjunction, supervisors get a real-time view of all agent activity and contact center managers can see wallboards tailored to their needs via a web browser. Changes to an IVR can be made within minutes. This ensures that both voice and email channels remain operational and customer inquiries are always answered. As a supervisor, you also have the ability to monitor performance and maintain all reporting capabilities.
Quick, secure and scalable deployment
There are no financing costs, meaning you do not have to buy more hardware and there are no deployment costs. Horizon Contact is scalable from 2 to 500 seats, licenses can be added at any time. This puts you in control and gives you complete flexibility as your business grows. Plus, a 30-day contract is available to manage peak demand.
CRM Integration
Horizon Contact's integrated CRM solution lets you record customer interactions by channel and aggregate data with all associated results into a single robust database.
With CRM integration, you can quickly find a contact's information and contact history while automatically viewing a caller's details during an inbound call. This allows you to initiate an outbound call directly from CRM using the "Click to Dial" feature.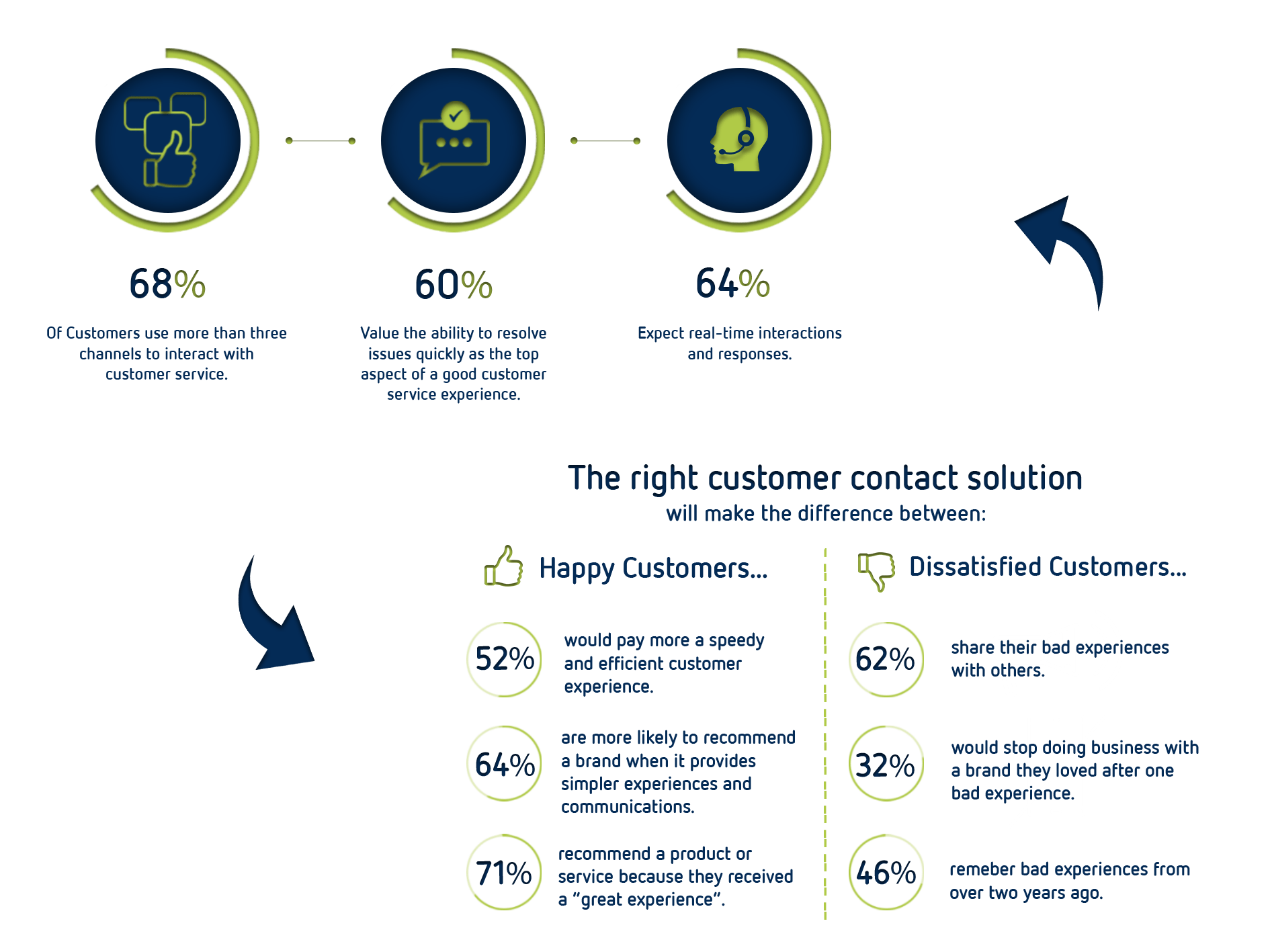 By implementing a cloud-based contact centre solution, you gain a competitive advantage through: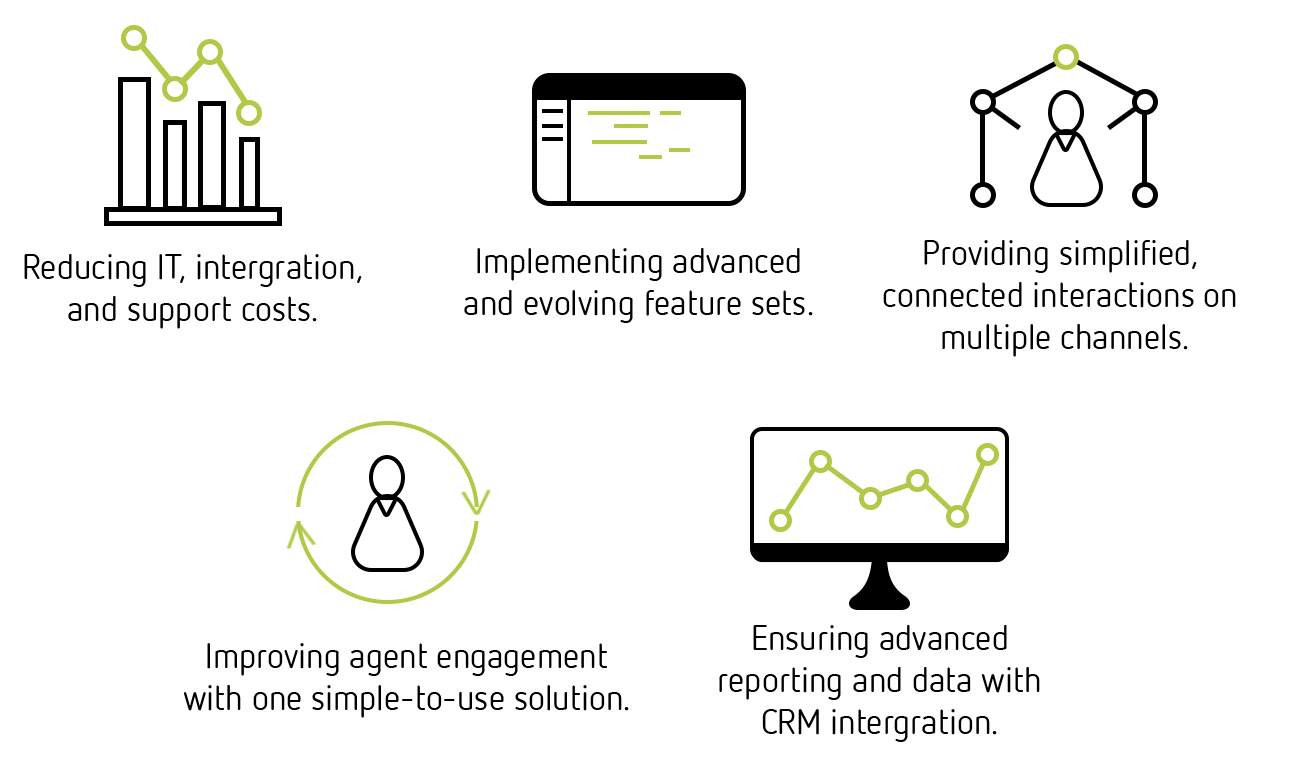 According to recent surveys, 90% of companies compete on the basis of their customer service. In addition, voice communication has proven to be critical for any business.
When a phone number is buried in an employee's contact list, it results in lost sales. The customer is then most likely to be frustrated, resulting in lower overall business satisfaction.
In addition, 74% of customer who are not satisfied with phone support are more likely to never use a service or product again. Ultimately, this negatively impacts relationships between employees and customers. As a result, the level of customer support for companies decreases.
Download your very own personalised, Horizon Contact guide below..
https://ukitnetworks.com/wp-content/uploads/2022/03/Horizon-Contact-UK-IT-Network-Infographic.pdf
Take action and put your customer service first. Get in touch with our team on 0344 326 2150 or email enquiries@ukitnetworks.com for more.