Your Email Data backup is the solution your business has been looking for.  When dealing with cyber threats, the cloud is in charge of handling all cases accordingly. This ensures, your data is protected against all kinds of malware. It's important to note, in absence of an email data backup solution, restoring your data can become quite a challenge.
What is an Email Data Backup?
Taking into account all the points made above, an email data backup is a form of data protection that helps secure your business's email.  For instance, your business data is backed up on a separate storage device. In some cases, via a cloud-based platform.
To summarise just a few key points as to why a cloud-based storage solution is a better option:
Usability: Easily upload your files with a simple and effective user interface.
Accessibility: Accessible through both your computer and phone.
Security: With access to thousands of data centres. It's made possible to prevent any kind of data loss.
Cost-efficient: Long term cost is reduced with one set cost. Minimising the risk of future threats to your email data.
Convenient: A cloud storage system works similarly to a hard disk. This enables you to store any file in the cloud whilst you have tasks ongoing.
Disaster Recovery: If your business encounters a loss in data, this can all be retrieved with their email data back up plan.
How Does An Email Data Backup Help?
Email data backup systems play an important role in every business. These services not only protect your data against cyber threats, but also prevent internal problems caused by hardware failure or user error.
By having an email data backup in place, your data will automatically be backed up regularly, preventing your data from being lost and guaranteeing your business the best quality, long-term data security.
How Does An Email Data Backup Stop Phishing Attacks?
A phishing attack is conducted by sending a false email. Catching the recipient in a cyber trap. The email received will appear to have been sent by a trusted user. By linking a scam website within the body of the email, they attempt to entice the recipient into revealing confidential information. Therefore, using an email data backup, protects your company during a cyberattack.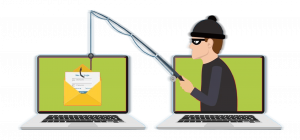 Mass Campaign
An email sent out to target a wide network of people, often by knock-off corporate entities, requesting an update of your personal details. 
How to spot them?
Identify errors or inconsistencies
Review the message for any logos that look odd, they may contain malicious HTML attributes.
Ignore emails that contain very little text with an image

An attacker posing as a known organisation, attempts to gain access to someone's credentials or financial information. The motive behind this is to catch out a smaller network of people.
How to spot them?
Be wary of links to documents stored on shared drives which can redirect to a fake website
Avoid documents that require a user login ID and password. This may be an attempt to steal your credentials.
Look for internal requests that come from people in other departments or that seem out of the ordinary
Do not click on links which are from an unknown website.

Whaling
A highly targeted phishing attack aimed at senior executives, disguised as a legitimate email. 
How to avoid them?
Flag potential threats from user emails outside of the company
Avoid responding to unknown email addresses from personal users.
Mark 'urgent' known requests a red flags
Clone Phishing
Emails sent from prestigious looking institutions that are copied and altered. Clone Phishing emails include malicious links, designed to direct the recipient to a malicious website.
How to avoid them?
Look out for emails requesting personal information. Most companies will not ask you to fill out confidential information via email. By visiting the link, you can tell from the website if it is secure or not.
Be aware of unexpected emails that appear to come from a 'trusted' contact.
The Top Key Points to Look Out For:
The Webpage ✔️
Social Engineering Signs ✔️
Is this real or does it just look real? ✔️
Double-check the URL ✔️

How can it help prevent Anti-Spam?
Email data backups work alongside anti-spam to create a boost in protection. Anti-spam software puts a stop to corrupt emails and identifies the sender.
Email address
Subject line
The message body
The attachment type
With the risk in spam emails rising over the past year, anti-spam comes to play a huge part in averting malware threats. Notably, protecting your business email against any possible cyber attacks. With all this in mind, anti-spam is proven to be a valuable investment.
In recent news…
KP Snacks have been hit by a ransomware attack. Warning retailers there will be a shortage of crisps and nuts!
This article is a great example into showing how all types of businesses can be affected by a cyber threat at any given chance. This situation could have been avoided if they had the right tools already in place.
The hackers who managed to gain access to the companies data, threatened to release the stolen information. In return, they have demanded a large sum of money, resulting in a major loss of profit for the company.
Not only are they having to pay a large sum of money in order to protect their data, this also means their productions have been put on hold, which again will disrupt, profit coming in.
Click the link below for the full article:
https://news.sky.com/story/kp-snacks-hit-by-ransomware-attack-with-retailers-warned-of-crisps-and-nuts-shortage-12531291
2021 Government Statistics
83% of large firms suffered mass phishing attacks in 2021 Government statistics. Alongside these results, 17% of those companies fell victim to email impersonations and online fraud.
Statistics sourced from:                                                                                                                                                                                                                                https://www.gov.uk/government/statistics/cyber-security-breaches-survey-2021/cyber-security-breaches-survey-2021
Have we peaked your interest in Email Data Backups and Anti-Spam software? Follow the links below for more information:
Cloud Based Backup Systems: https://ukitnetworks.com/it-services/data-backup-recovery-small
Anti-Spam Software: https://ukitnetworks.com/it-services/anti-spam-software-medium-business/
Take that next step in keeping your business data secured, with the help of a Cloud Based Backup System. Get in touch with our team on 0344 326 2150 or email enquiries@ukitnetworks.com for more.