Cloud Contact Centres and the Changing Business Environment
New digital systems are surfacing more than ever before. Rapid changes in technology and the working environment have led to traditional systems no longer being capable to serve the demands of a modern business. Generally, separate platforms are used to manage contact through voice, email and webchat.
Cloud-based contact software can bring all these systems into one. The dynamic platform is accessed through the web; anyone with a licence can log in to the platform on a web browser from anywhere.
Businesses have been hesitant to switch onto a new system, but with a changing work environment and the approaching 2025 PSTN switch off approaching, now is the best time to address those concerns. We have compiled a list of common concerns from business owners about switching to a new cloud-hosted platform to show how the Horizon Contact solution can be used across any contact centre.
"Contact Centres are Too Complex"
Cloud-based contact centres are an omnichannel approach for managing customer interactions, so bringing your contact channels into one system will simplify interactions across voice, email and webchat, no matter the size of your business. With our packages starting at 2 users, a business of any size can take advantage of a contact centre platform.
"Contact Centres are Too Expensive"
Our packages have a simple licencing model; pay for the Agent and Supervisor licences you require and add more as you need.
There are no financing costs, no major hardware purchases, and no software installations to arrange – the platform launches in an agent's web browser.
"We Cannot Afford to Have Downtime for Software Updates"
As a cloud-based platform, when a user loads the system through their web browser, they will always be running the latest version of the software.
Furthermore, our system is built on an architecture that will deliver at least a 99% uptime SLA across four data centres.
"My Team do not All Work in the Same Office Together"
To access the platform, users need an internet connection and their web browser. This way, they can work and collaborate from any location, as all team members can communicate through the portal. Agents can make and receive customer calls directly through the platform on their web browser, with intelligent call routing ensuring that customers are connected with the agent best equipped to resolve their queries.
What is Horizon Contact?
Horizon Contact is a cloud-based contact centre solution that simplifies multichannel customer interaction through an easy to use, self-service feature set. This platform gives supervisors full management of agents' communications across voice, email and webchat, with reports able to identify issues and improve efficiency.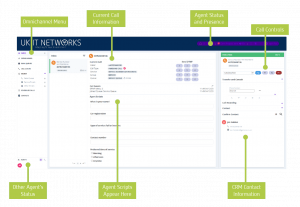 Integrate with your Microsoft Dynamics or Salesforce CRM to link a contact's details for immediate access, connect to the platform from anywhere through your web browser, and add users to your package whenever they are needed.
Want to find out more about how Horizon Connect can improve communications for your business? Check out our Horizon Contact page, email us at enquiries@ukitnetworks.co.uk or call us on 0344 326 2150 to speak to one of our team.