Who doesn't love Free Ice Cream??
If you haven't heard the scoop already…
Our team have been busy travelling across the UK, throughout April, delivering the delicious Cheshire Farm Ice Cream in honour of celebrating our 10 Year Anniversary. We couldn't have done it without our incredible partners Verkada and Hornetsecurity.

We reached out to the fantastic team at Cheshire Farm Ice cream to see what they thought of our ideas… With a speedy response from their team member, Stephen, we were quick to arrange a meeting to get plans underway for our momentous road trip…
Of course we had to get Betty branded…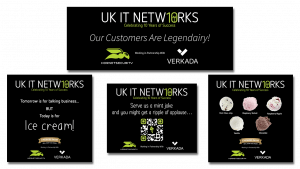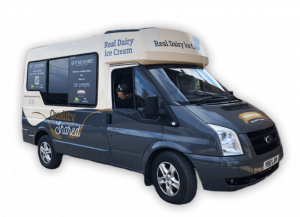 Wasting no time at all, we set off on our first leg of the trip to Scotland…
Having driven a total of 583 miles to Scotland and back, we visited all of our customer sites, who greeted us with the warmest welcome. It's safe to say their Cheshire Farm Ice Creams went down a treat!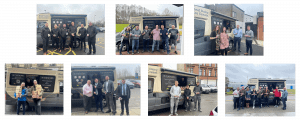 Liverpool
Our team couldn't have asked for better weather on their trip to visit our customers in Liverpool.

Manchester
We couldn't miss this photo opportunity of Betty pulled up in Manchester city centre!
Of course we managed to snap a few pics with our customers on site.

Middlewich
A trip slightly closer to home, with another successful day out.

Leeds
We had the pleasure of delivering some tasty mid-week treats.
Not forgetting to stop by our Leeds office and catch up with our team!

Birmingham
We may not have had the sunny weather to brighten the spirits, but it definitely didn't dampen anyone's mood in the slightest!

Northwich
A lovely day visiting customers across the area.
Everyone enjoyed their delicious CHESHIRE FARM ICE CREAM
We couldn't have asked for better weather to kick off the weekly Ice Cream run just after the Easter bank holiday.

Cheshire West
The beautiful weather was the perfect backdrop for ice cream as the team travelled around Cheshire, Shropshire, and North Wales!
It was great to celebrate 10 Years of UK IT Networks our customers.
South West
As we reached our final week of our round-Britain tour in Betty the ice cream van we headed South West to celebrate with even more customers.

South East
Our team then headed towards the South East on a 3 day tour to visit our customers around London, Hertfordshire, Surrey, Hampshire, Sussex, Kent and Essex.
We also popped by to see our team over in our Southend Office!

Nottingham
As we near the end of our Ice Cream Tour we payed a visit to some locations around Nottingham, who were pleased to see us arrive in Betty, and we even had a guest server!
The Final Stop!
To finish off our Ice Cream Tour we visited the members of the community across Cheshire including the lovely residents and staff at Sandiway Manor Northwich!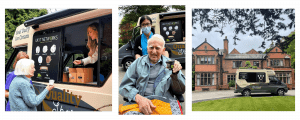 We couldn't be happier with how our vision came to life, and to top it all off, seeing the reactions from everyone we visited only made it better.
Check out our LinkedIn Article for a short montage of a few moments we captured whilst on our road trip across the country. You can also read through the testimonials we received from everyone we visited!